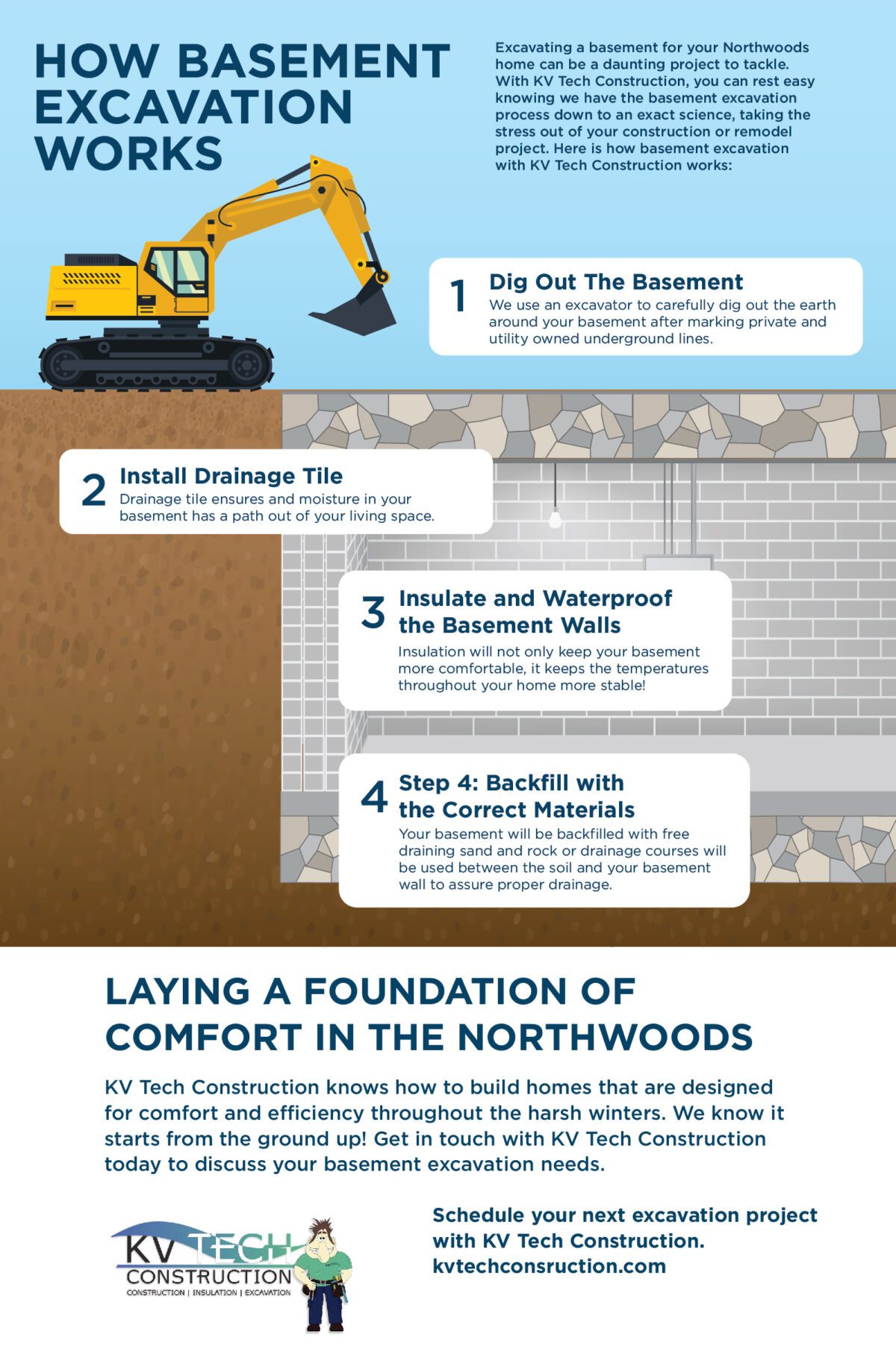 Blog
How basement excavation works
Excavating a basement for your Northwoods home can be a daunting project to tackle. With KV Tech Construction, you can rest easy knowing we have the basement excavation process down to an exact science, taking the stress out of your construction or remodel project. Here is how basement excavation with KV Tech Construction works:
Step 1: Dig Out The Basement
We use an excavator to accurately and quickly dig out the earth surrounding your new basement.
Step 2: Install Drainage Tile
Drainage tile ensures and moisture in your basement has a path out of your living space.
Step 3: Insulate and Waterproof the Basement Walls
Insulation will not only keep your basement more comfortable, it keeps the temperatures throughout your home more stable!
Step 4: Backfill With the Correct Materials
Depending on the soil and drainage needs of your home, we will install the right combination of sand, gravel, and other materials surrounding your basement for proper drainage.
Laying a Foundation of Comfort In The Northwoods
KV Tech Construction knows how to build homes that are designed for comfort and efficiency throughout the harsh winters. We know it starts from the ground up! Get in touch with KV Tech Construction today to discuss your basement excavation needs.
Schedule your next excavation project with KV Tech Construction by calling 715-765-4483.

Contact us
Let's discuss your project.
KV Build is a full-service new construction, renovation, insulation and excavation contractor specializing in whole-home projects throughout Northern Wisconsin. Tell us about your project. We're eager to be of service.