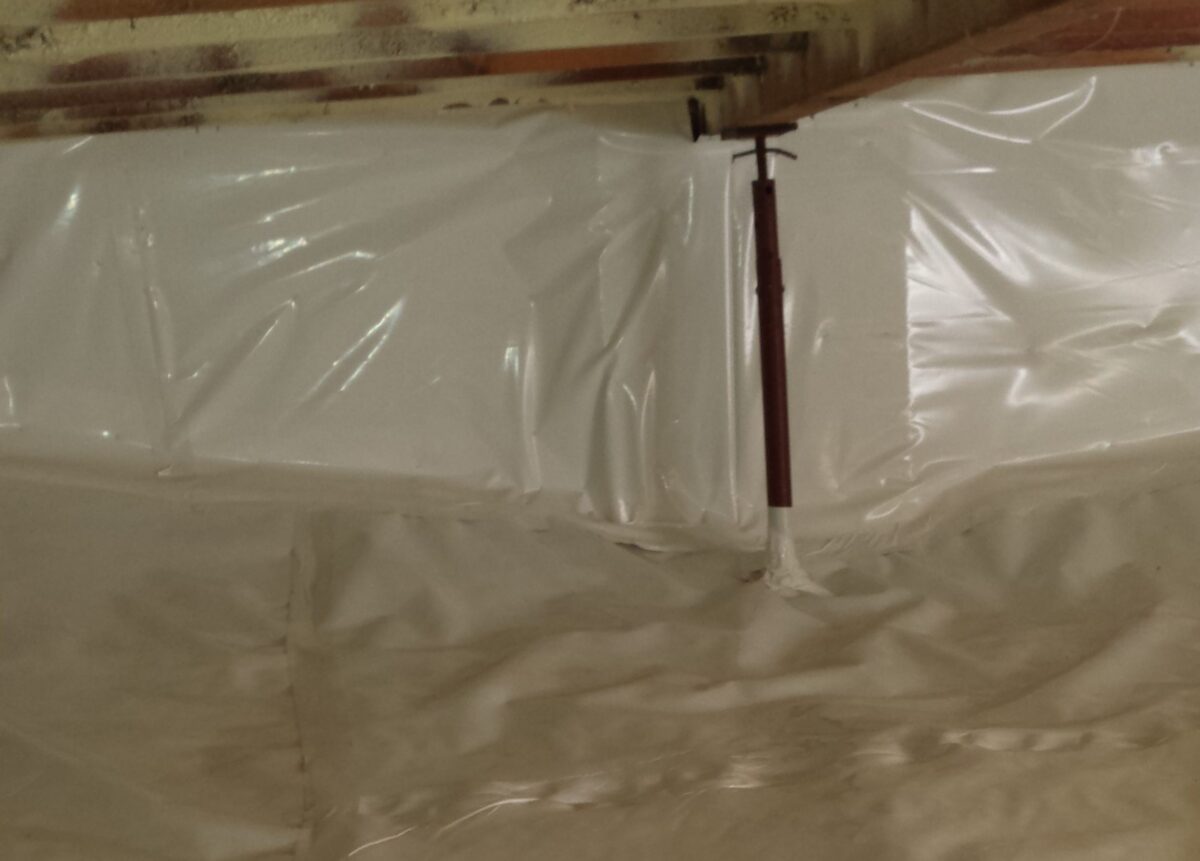 Blog
Now is the time to seal your crawl space
When was the last time you thought about the effect your crawl space could be having on how comfortable you are in your home? Is it never? You're not alone.
You also wouldn't be alone if you only thought about your crawl space right as the harsh Wisconsin winter is breathing down your neck, threatening to introduce excess moisture into your home. But as summer starts to cool down, and fall is right around the corner, the time to install a crawl space vapor barrier is now.
Why, you ask? A couple of reasons: you can beat the rush of procrastinating Wisconsin homeowners, and the earlier you can keep the damaging moisture out, the earlier you can stay comfortable and save on your monthly energy bills!
Why Does a Crawl Space Need a Vapor Barrier?
Under your floors is a dirty, musty, dark crawl space that we are sure you'd just as soon forget about. Unfortunately, the same force that is behind that musty smell could be spiking your energy bills and threatening how comfortable your family feels in their own home.
Outside air infiltrates your crawl space through holes and gaps in your home. Additional holes and gaps between your floor and crawl space allow moisture and unwanted hot/cool air to enter your living space (depending on the season).
Crawlspaces in the Wisconsin Summer
The problem most Northern Wisconsin homes see in the summertime is with moisture. The hot air outside is humid, and as it infiltrates the cooler temperatures in a crawlspace, the moisture condenses. Imagine the droplets of water that buildup on the outside of a glass of water – we often see that much moisture develop on the floor joists of your crawlspace! This moisture buildup can wreak havoc on your home, promoting dangerous mold growth and damage to the structure of your home.
Crawlspaces in the Wisconsin Winter
During the freezing Wisconsin winters, we notice most homeowners that don't have a proper vapor barrier deal with frozen pipes, and cold floors. The cold air from outside is sucked in through the crawlspace (from the negative pressure inside a home or cabin), and causes pipes in that crawlspace to freeze. Plus, the cold air makes it near impossible to fully warm up the floors in the living space. A vapor barrier keeps that cold air out all winter, saving your pipes and your cold feet.
What Is a Crawl Space Vapor Barrier?
A crawl space vapor barrier is also referred to as crawl space encapsulation. The KV Tech process of professionally installing a vapor barrier starts with removing the debris under your home. This can be leftover material from your home's construction, trash that has infiltrated through ventilation systems or holes, or even dead pests and other yucky material. We then level the soil, and optimize the ground for the technicians to properly work underneath your floors, and dig pits for any necessary sump pumps or drains for chronic water buildup issues.
After that, a heavy duty white plastic material is installed as the actual vapor barrier on the floors and sometimes the walls, with seals on all of the seams to ensure a continuous moisture block. Closed cell spray foam is then installed to air seal and insulate the rim joist and other areas.
Act Now: Save Money, Stay Healthy & Comfortable
Energystar.gov puts the crawlspace of the home as the second most effective place for home upgrades when it comes to savings and comfort (behind a properly insulated attic). This is because unwanted temperatures and moisture in your Wisconsin home can be an issue all year round – putting a strain on your heating and cooling system as it tries to keep up. So with a proper vapor barrier, you save money on your energy bills, stay comfortable no matter the season, and greatly reduce your risk of mold growth and structural damage due to moisture!
Don't wait to schedule your crawl space vapor barrier installation. We see a large spike in appointments as the winter gets closer, so scheduling becomes much more difficult. Plus, there's no need to wait to experience the full list of benefits of a crawl space vapor barrier:
A more comfortable home

Increased indoor air quality

Monthly energy savings

Protection from future pest infestations
Trust the Home Performance Experts at KV Tech
From your attic to your crawl space, you can trust the expertise of your local Northwest Wisconsin Home Performance specialists at KV Tech. We always stand behind our work, ensuring the highest levels of durability and performance every time, and keeping the moisture out of your home with a proper crawl space vapor barrier is no different. KV Tech Construction has been serving homeowners in Ashland, Hayward, Spooner, Iron River, Cable, Bayfield, La Pointe, and Washburn, WI since, 2004. We are committed to keeping you comfortable and healthy in your home.

Contact us
Let's discuss your project.
KV Build is a full-service new construction, renovation, insulation and excavation contractor specializing in whole-home projects throughout Northern Wisconsin. Tell us about your project. We're eager to be of service.