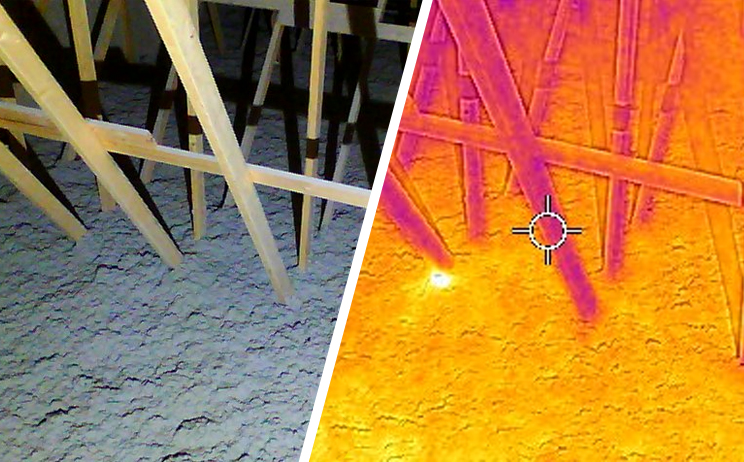 Blog
Do I really need new insulation?
There are some common telltale signs that your Wisconsin home may need new insulation. If your home is drafty, your floors are cold or your heating and cooling systems are working overtime to keep your house comfortable, there's a good chance you may need new insulation.
But the truth is, the only way to be certain if you need new insulation and to ensure the right insulation is installed where it's needed most, is to have an energy audit performed by a home energy expert.
You May Need New Insulation If…
These are some of the most common signs that a home is under- or uninsulated. But even if you're experiencing these problems, don't simply assume you need insulation. Call for an energy audit to get to the root of your energy loss and comfort problems before you commit to home improvements that may or may not turn out to be the most effective solution.
Your House Is Drafty


The colder it is outside, the quicker your heated air rises toward your cold roof. If your attic is not air sealed and uninsulated, the air and heat will continue right on to the outdoors, pulling cold air in to the lower floors through any available hole or crack to replace it. This is called the stack effect, and it can cause drafts you not only feel but can sometimes see, for example, when a curtain moves near a window.
Your Energy Bills Are Too High


Do you dread seeing how much your gas, oil or electric bills will be each month? And do you wonder why, if your bills are so high, your home isn't more comfortable? Rather than curse the utility companies, your best bet is to look for ways to create a more energy efficient home. A well-insulated home will increase your comfort and significantly lower your bills year-round.
Your HVAC Systems Run Constantly


Without proper insulation (and air sealing), your conditioned air, whether hot or cold, will leak into the outdoors while unconditioned air enters your living spaces. In summer, the heat from your roof and attic push downward, and in winter, the cold air creeps up from the basement. Air moves through your walls and through gaps and cracks around vents and plumbing, around windows and doors, and countless other places you'd never think to look.
As a result, your HVAC systems will continue running in a hopeless attempt to combat these conditions and keep your home comfortable. And they'll use a lot of expensive fuel and break down often from overuse in the process.
Find Your Solution with an Energy Audit
While any one of these problems may point to a need for new insulation, your best first step is an energy audit. The trained and certified technicians at KV Tech Construction will complete a thorough evaluation of your Wisconsin home, inside and out, to determine just how energy is being consumed and exactly what you can do to stop energy loss.
KV Tech's professionals use specialized tools and technology to locate air leaks and areas that need new insulation or that are not insulated at all. We'll also assess the safety of all combustion appliances to ensure dangerous fumes are properly vented. And we'll check fans for sufficient air exchange to enhance indoor air quality.
After the audit, we'll review our findings with you and offer recommendations for the most effective solutions to improve your home's performance, lower your energy bills and create a more comfortable place to live. Last but not least, we'll let you know if you're eligible for energy rebates or grants, and if you are, we'll take care of the paperwork for you!

Contact us
Let's discuss your project.
KV Build is a full-service new construction, renovation, insulation and excavation contractor specializing in whole-home projects throughout Northern Wisconsin. Tell us about your project. We're eager to be of service.