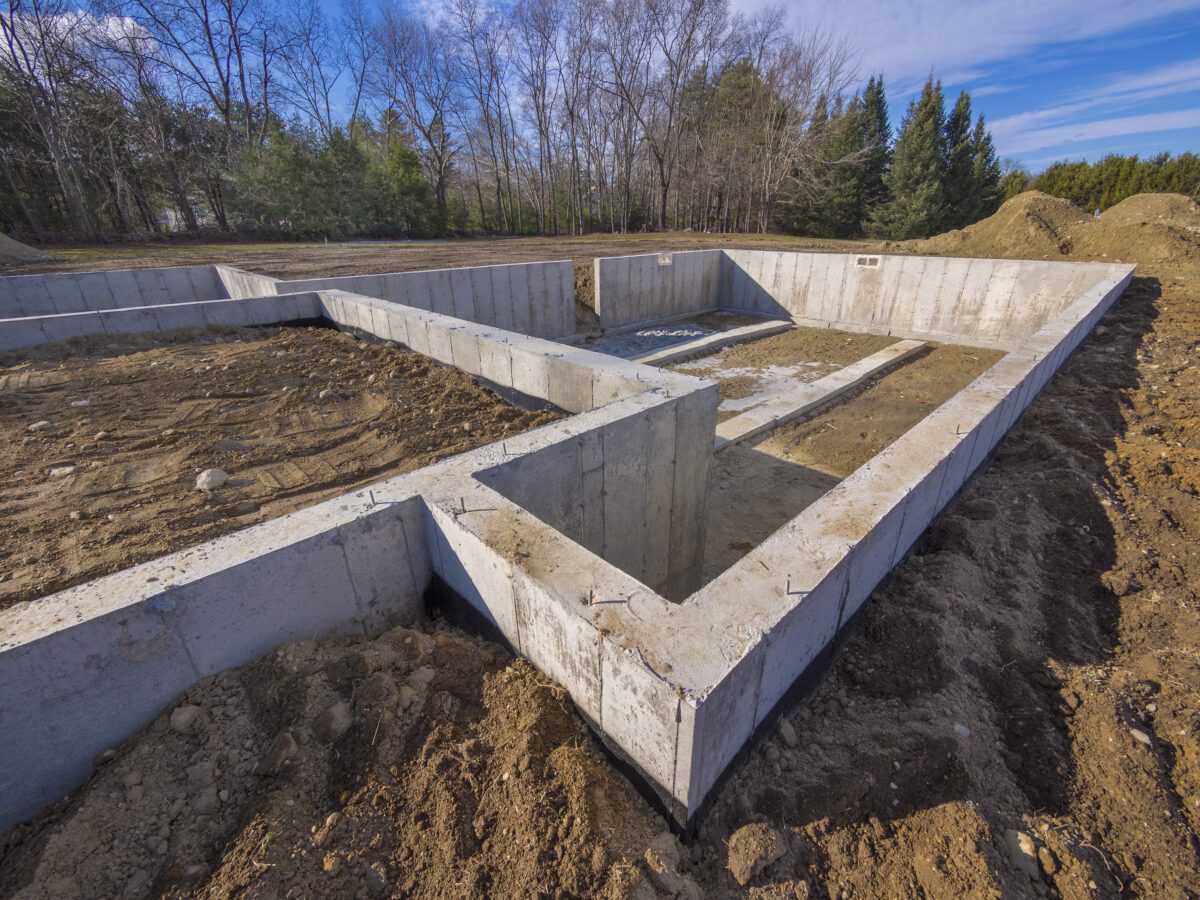 Blog
What do foundations do & how long should they last?
KV Tech has been going into homes here in Wisconsin's Northwoods and addressing foundation issues for all of our 25 years in business. We have seen a lot of ways in which foundations fail and have had to design effective solutions that can fit any budget. We often find ourselves wishing things had been done the right way when the building was originally constructed!
When a home is designed correctly, it should last 400 to 500 years (really!) So when you look at the big picture of investing in a solid foundation, the cost is pretty small. A couple of small concessions on interior finishes, in most cases, will more than cover the cost of building a great foundation!
How Long Should a Foundation Last?
Let's start with the question, "how long should foundations last?" It sets the stage for considering what a foundation should do for your Wisconsin home. The obvious answer is forever!

"When we build, let us think that we build forever…" John Ruskin

Building home foundations that will last in places around the south shore of Lake Superior require specific consideration. Ashland, Washburn, and Bayfield all have soils that are less than ideal for building on, but we can still make a forever foundation if we understand the mechanics of what a foundation is supposed to do. Even in great soils, improperly constructed foundations will fail prematurely. So, what are the types of home foundations, and how do they operate?
Foundation Types
This list is not exhaustive, but these are the four main foundation types you see in most construction:
Basement (In essence, a hole in the ground)
Stem wall
Slab-on-grade (or a variation called Frost protected shallow footings)
Posts or concrete sono tubes
Foundation Components
Footings
Drainage
Water proofing
Insulation
Foundation Footings
The footings are the starting point and are the most important component to get right. Foundation footings "float" the weight of the house on the soil. All soils have a specific compressive strength, or a point at which they will start to "settle" and compress. Building loads should not exceed this point, or the building will start to move. So, how do we know where this is? Soil capacity tables are listed in the State of Wisconsin's building codes. But these are only generalizations based on soil type such as sand, gravelly sand, clay, silty clay loam, etc.

Buildings weigh a lot! To help us wrap our brains around how soil capacity relates to a home, this let's look at what a few typical houses weigh:
A ranch house, 3 bedroom, 2 bathroom, slab-on-grade house can weigh about the same as 10 72-passenger school buses full of kids, or about 280,000 pounds!
A 3 bedroom, 2 bath, 2 story house with a basement can weigh as much as 15 school buses or 420,000 pounds!
In Bayfield and Ashland Counties, we have to design our roofs to carry a 40 pound per square foot snow load. On a typical house, that is 60,000 pounds of snow — or the same as parking 17 Honda Accord cars on the roof of a 1,500 square foot house!

In other words, our houses are really heavy, so our footings have to be sized correctly!
Foundation Drainage
You would be surprised at how many homes KV Tech sees with water problems. The number one solution is properly grading or sloping the property. Sloping the soil away from the house for a 10' radius will do wonders in alleviating any existing moisture problems. And this is the easiest thing to get right!

The other components of drainage are making sure that if water gets under a slab, basement, main floor or garage, that water can also get out. This means below any slab should be a layer at least 4" thick of washed rock. The perimeter of the building needs to have drain tile so there is a system to get the water out of the washed rock and away from the building.
Foundation Waterproofing
Even after your foundation drainage has been accounted for, waterproofing is necessary to prevent any additional moisture buildup and damage.

Waterproofing materials for a home's foundation should be at least 40 mils thick, and at KV Tech we install peel and stick waterproofing membranes. This involves painting the basement wall with a primer, similar to contact cement. Then we adhere the peel and stick membrane to the primer. The top of the membrane needs to be mechanically fastened to the wall to make sure on hot summer days the membrane glues do not get soft and let go of the wall.

Foundation Insulation
We hear from many homeowners about how they don't want to insulate their basement or floor, so they can take advantage of the free geothermal heat that comes from the ground. In order to understand this concept, we have to address the mystery of heat flow. In short, heat flows from hot to cold. Warm air rises, and cold air sinks.

In Ashland and Bayfield Counties, our average soil temperature is around 45 degrees Fahrenheit. If we are heating our homes to chilly 30 degrees, then we would see nice heat gain from the soil. But since we typically heat our homes to about 70 degrees, the heat from our homes is constantly flowing back down into the soil. (Remember — heat flows from hot to cold.)

So, always insulate your foundation! Insulate your basement floor, even if it is not heated with radiant heat. Insulate your slab-on-grade foundation. We also recommend that you insulate your garage floors even if the garage will not be heated. Insulating the garage floor during construction is the only chance you have to insulate cost effectively, and you may someday decide to insulate the rest of the garage. Even if you don't, the floor insulation will prevent condensation on hot, humid days in the summertime.

Insulating outside of a slab-on-grade perimeter or outside of frost protected shallow footings is also recommended to prevent frost from heaving your foundation footings during winter. A building that does not move over time prevents drywall cracks, keeps doors functioning properly, keeps the framing structurally sound, and maintains a structure will last for hundreds of years.
Special Considerations for Post and SonoTube Foundations
The main challenge to post foundations is protection from frost uplift. Using "Bigfoot" sono tube bases solves this issue and doubles as the footing, making it the preferred way to address both the footing and frost uplift with a single product. Special consideration is needed to determine the footing load, since it is divided by each of the posts in your foundation.
Build Your Home on a Strong, Foundation with KV Tech
Whether you are designing your dream home, or you are turning current home into your forever home, a strong foundation is essential to the longevity of your investment. As a family owned Wisconsin business of over 25 years, we know what it takes to build a home to last here in the Northwoods, and we are the only company in the world with a 5 year 100% materials and workmanship guarantee. Experience the KV Tech difference today, in Ashland, Hayward, Spooner, Iron River, Cable, Bayfield, La Pointe, and Washburn, WI.

Contact us
Let's discuss your project.
KV Build is a full-service new construction, renovation, insulation and excavation contractor specializing in whole-home projects throughout Northern Wisconsin. Tell us about your project. We're eager to be of service.