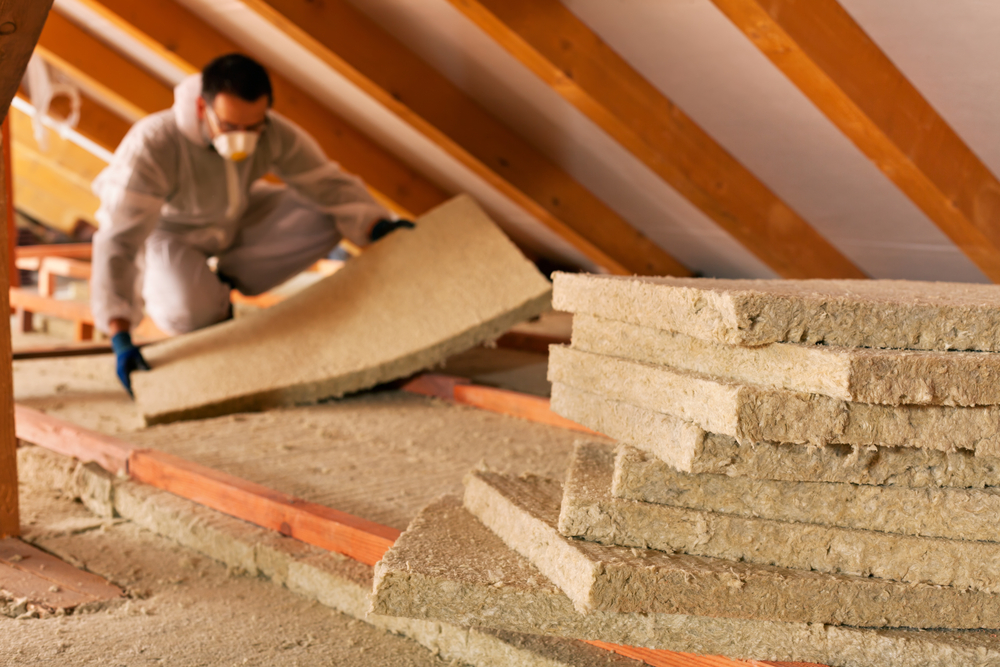 Blog
"What's the best insulation for my attic?"
If the insulation you use in your Wisconsin home has been on your mind (as it should be!) then you have likely asked yourself this question: "What is the best insulation for the attic?" Many homeowners are used to seeing the pink fluffy stuff in the attic when they climb up the ladder to get their box of Christmas decorations and don't think too much of it the rest of the year. But a quick online search for attic insulation types will reveal there are more options for your attic insulation than just that aforementioned "pink fluffy stuff."
So, which type of insulation is best for your Northern Wisconsin home?
How To Insulate an Attic
Let's start with how your attic should be insulated, as well as the goal of your insulation. In short, the insulation in your attic should keep the warm air from your furnace and heating equipment inside your home during the winter. It should also keep the hot summer air outside during the warmer months.
When you have poor insulation in your attic (as well as in your walls), the expensive heat that keeps your living space warm and cozy during the winter transfers into the attic and leaks out of the roof. This will send your furnace into overdrive, and when there is snow accumulation on your roof, the escaping heat will melt the underlayer of snow, leading to the formation of ice dams. An under-insulated attic has a series of side effects, including:
Increased heating costs
An overworked furnace
More heating breakdowns
Risk of ice dam formation
A drafty, uncomfortable home
Your attic insulation should keep you warm, lower heating bills(who wouldn't want that?), and your roof safe from ice dams. So, what are the types of insulation you can utilize for the best results?
As the Mason, Wisconsin, insulation experts, KV Tech offers three different insulation types, all geared at accomplishing your homes' specific needs: spray foam, cellulose, and fiberglass batt insulation.
Spray Foam
Spray foam insulation is often considered the "crème de la crème" of attic insulation because it tackles two problems that are extremely common in attics: 1) the transfer of heat through your ceiling and 2) the transfer of heat through any holes or gaps. Spray foam insulation is an expanding foam material that is blown in using a hose. The expanding foam fills any existing holes or gaps, providing a tight air seal along with insulation. Though spray foam is more expensive, KV Tech recommends this insulation material for homes in Northern Wisconsin, due to our harsh winters that can last for 6 months.
Cellulose/Blown In Insulation
The cellulose insulation we use here at KV Tech is 80% recycled material, treated to be fire resistant. It is also our most cost effective solution. We recommend cellulose insulation for environmentally conscious homeowners who have consistently flat attics. Cellulose is also blown in with a hose, but does not have the same expanding air seal properties as spray foam does.
Fiberglass Batt Insulation
This pink fluffy stuff is a popular DIY solution for insulation, but often it is improperly installed. Fiberglass batt insulation is prone to moisture damage, rendering it useless as a home comfort upgrade. At KV Tech, we install fiberglass batt insulation with a vapor-retarding film on new construction projects to prevent any moisture infiltration. There are some instances when we recommend combining fiberglass insulation and spray foam for an added air seal.
Affordable Insulation Upgrades
Since your insulation upgrades will make your home more efficient, they qualify for rebates and financial incentives from Xcel Energy and the Focus on Energy program. KV Tech will provide all the necessary testing to show how much energy you are saving with our comprehensive energy audit, so that you can save the most money possible while upgrading your home comfort and energy efficiency with proper attic insulation.
KV Tech: Solving Your Wisconsin Winter Woes
You don't need us to tell you about the challenges that the snowfall and sub-freezing temperatures present to your home comfort. But as you consider the role that your insulation plays in your monthly energy bills, as well as the overall "coziness" of your home, make sure you consult the experts on which insulation is best for your attic. Our experience has shown that most Mason, Wisconsin homes are under insulated and that an investment in attic insulation will pay off in the long run.

Contact us
Let's discuss your project.
KV Build is a full-service new construction, renovation, insulation and excavation contractor specializing in whole-home projects throughout Northern Wisconsin. Tell us about your project. We're eager to be of service.